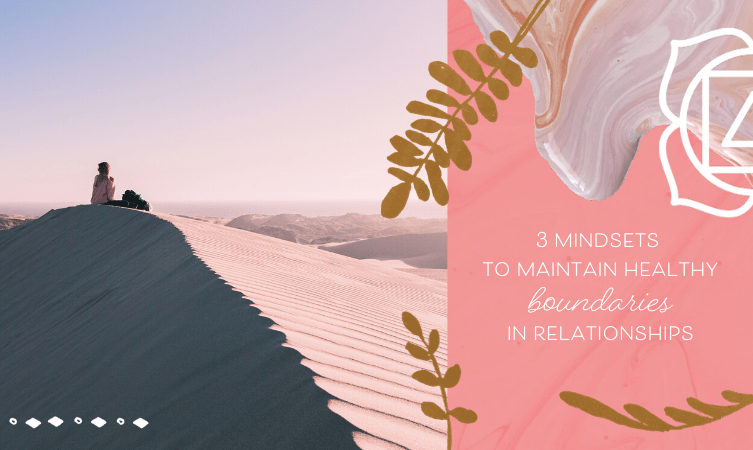 When I talk about maintaining healthy energetic boundaries, I mean defining what is your responsibility and what is the other person's responsibility and also setting standards for what you will and won't accept in your life.
Why you need good boundaries:
If you're not taking care of your own boundaries, you'll feel bad about yourself and self-esteem will plummet. You'll send out the subconscious message to yourself that 'other people matter more than me'. That'll have your metaphorical inner child wailing pretty loudly and then you'll have to make it up to her/him.
How I learned that poor boundaries can = low self-esteem and resentment
Back in my early twenties, I didn't know much about boundaries.
I had a reading in late 2007 with Erin Pavlina.  At the time, I was unhappy in my teaching job because I felt depleted; like I was giving a great deal in my work without getting a whole lot back.  I remember asking about this issue during the reading and my guides said that I was learning a big life lesson about establishing healthy boundaries.
Having boundaries was alien to me. I loved pleasing everyone and got upset if I couldn't cater to everyone (I have Libra rising in my astrology chart too, which explains that.) I was in a job that I wasn't enjoying much and so when I got to help someone in a way that used my gifts, it felt so wonderful that boundaries didn't seem like a big deal.
At that time, I realized that the same thing that was giving me a rush of good energy – sharing with others – was unbalancing me. I was also unhappy in my workplace because my boundaries were virtually non-existent.  I'd get angry because I wasn't honouring myself or receiving back and I'd project that anger onto the people I thought were violating some sort of unspoken code of how much they were allowed to take from me.
I later left that job and went on to have other relationships that taught me more about boundaries, with people in my new business and with men in romantic relationships.
I found out from my own experiences that a wonderful relationship can suddenly start feeling awful when two people have non-existent boundaries and unspoken expectations.  It became clear how important drawing up boundaries is.
Here are some ideas that I absorbed which helped me to do that.  I hope you find them helpful too.
1. Remember that you are responsible for only one person – you
We want to look out for others, right?  That's the whole point of loving relationships isn't it – caring for one another.
BUT many of us mistake caring for someone as doing their growing for them, trying to protect them from life and taking on responsibility for them.
We don't need to do that for another person. After all, everyone has a literal connection to Source energy and divine power, and they can use that creative power to create change in whatever situation they're not happy with and to take charge of their life.
Taking responsibility for another person has energetic consequences. When one person believes the other lacks the energy or strength or power to accomplish something, they 'lend' the other person some of their energy and instead of being hooked into Divine source as a source of power, that means the other person becomes hooked into you energetically, and siphoning off energy from you.  This often shows up in a healing session as a negative attachment between two people called a compassionate connection.  It's the energetic manifestation of codependency.
In the physical, it looks like you doing the growing for your partner, or offering them your energy and help in a way that disempowers them.
It's compassionate and well-meaning, but it often originates out of pity or a belief that your help is needed by the other person; that you have something they don't.
Suffering happens when we believe we need something from someone that they won't give us. The suffering can end when we realize that everything we need is inside us – including the abundance of the whole universe that we can call into being in a physical way through our power as creators. Put in a more grounded way, you can manifest anything you want in your life, and that abundance comes to you through you, not through another person – you are the source of all good in your life. Just as others are the source for their lives.
So, we need to remember to lead others back to their own source of power instead of lending them ours. Also, be sure not to buy into anyone's perception that they can't create change.
2. Don't assume to know what others need
An essential part of keeping good boundaries is not giving energy to those who aren't asking and also, not expecting others to know what you need when you haven't explicitly communicated it.
You waste a lot of your own energy if you try to anticipate others' needs.  Plus, when we assume we know what another needs, we can violate their boundaries.
Instead, hold others in the perspective that they are the experts of their lives, and they know what they need.  Ask them to tell you what they want – and communicate to others what you want from them.  Know your own needs.
I think this is a big part of keeping good boundaries in relationships because often one partner can get upset about an unspoken expectation that the other person had no awareness of.  And similarly, one person can spend a lot of energy trying to force their help on the other when it is not wanted.
I know that I personally have wasted a lot of energy in romantic relationships trying to work out what I SHOULD be giving to the other.  In some relationships, I have felt a niggling sense of guilt all the time, thinking "am I doing enough for him/am I showing him I care enough?"
Maintaining good boundaries is about letting go of your ideas that you know what another needs and that you can anticipate it.  That's not your job – it's theirs.
3. Aim for an equal exchange of energy in relationships
Do you ever feel guilty about getting something in return for what you've given?  Do you feel like you can never give enough?  Feeling unworthy of receiving is another factor that can encourage poor boundaries.
We are energetic beings and we are here to exchange energy with one another. But remember that energy exchange between people has to be equal. When I mean energy exchange, I mean give and take. And that applies to all relationships. That exchange of energy can be anything – it can be learning, love, care, support, resources, friendship – virtually anything that is of value that you bring in your own way.
If you don't have give and take in relationships, it becomes unsafe to open yourself up and share yourself with others, because you become vulnerable to depleting yourself. And you are also giving yourself the message that you and your well-being don't matter.
So, even if you have that nasty gremlin on your shoulder, telling you that you need to give more than you get in relationships, whether they're personal or professional, flick it off and remember that energy exchange has to be equal – and set boundaries so that your relationships don't become one-way streets.

So there you have it – a summary of the lessons I have learned about healthy boundaries over the last ten years.  I hope this is helpful for someone.