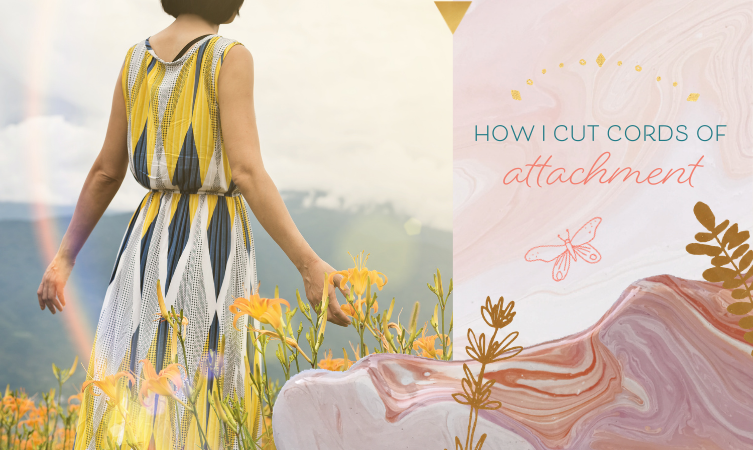 Cords of attachment are negative energetic structures that we form with people who we have had a meaningful relationship or encounter with. They contain the shadow dynamics of a relationship or event.
These structures can be cut, in a process called cord cutting. We usually have many cords and each one only needs to be cut once. To do it properly, the session should last 45-60 minute session, and consists of many steps.
In this article, I'm going to detail my step by step process for cutting a cord, for a client or for myself.
In my upcoming Professional Intuitive Healing Program, I teach people how to do this.
So, here's an overview of the process:
1. Bring in a Divine Being (either an Ascended Master or an Archangel) and set up a sacred space for the session.
Cord cutting can only happen with the help of a Divine being, which is an Archangel or an Ascended Master (we never involves guides in this process.) Divine beings are really good at moving energy and clearing negativity, and they bring the spiritual healing. We couldn't do this process without them.
2. Check for earthbound spirits in the client's auric field
This is a really important step that most cord cutting practitioners miss.
On occasion, when a client books in for a cord cutting, you will find that they are carrying earthbound spirits with them. And if a client has earthbound spirits in their auric field, it's a bad idea to do a cord cutting. Instead, you need to do an earthbound spirit release before you even consider cutting a cord for someone.
If you do a cord cutting for someone who has attaching earthbound spirits, what can happen for empathic cord cutting practitioners is that when you tune into a client during a cord cutting, it is possible that the earthbound spirits in their auric field may "migrate" over to yours. Therefore, we do not do cord cutting sessions for clients who are carrying earthbound spirits with them. We do a session to clear the earthbound spirits first, and we propose this alternative session to clients.
The second reason why we don't cut cords for people who have earthbound spirits in their auric field, is because such a person is less likely to feel the benefits of a cord cutting. Earthbound spirits amplify our own negative emotions and they can make us feel emotionally volatile, when we are carrying a lot of them. This can obscure the benefits of the cord cutting work, and the results won't be as beneficial.
3. Help the client decide who to cut a cord with, and if necessary, obtain some guidance on which cord would be a good one to cut.
For this step, we don't just pick any cord to cut. Usually we make a list of the ones that the client wants to have cut and ask Spirit, is this the right one to cut today?
We ask that question because often there is an order in which to cut the cords. For example, perhaps you need to cut the cord to your ex-husband before you're ready to cut the cord to your father.
Other times, Spirit knows more about the future than we do, and so the timing can be about that. To give one example of how this can play out, once I had a woman come in for a cord cutting. She had a few possible cords to cut, some of which were problematic relationships and others less problematic. Spirit recommended we cut the cord to her sister, which was an easy relationship. The client agreed to this, but was a bit confused as to why this was recommended. Soon after the cord cutting, the client's sister had a cancer scare, and my client feels the cord cutting really helped her to hold it together and support her sister (and the rest of her family) during that process.
So this is an important step that helps to make for a successful session and ensure that the cord cutting we do is in Divine timing.
4. Help the client come up with a suitable intention for the session.
The intention sets the tone of the session. It can be anything from "I want to let this relationship go for good" to "I want to be more self-confident" to "I want to make more money"
When you look back on the intention a few months later, it usually has come about.
We also avoid intentions which are about other people and things we cannot control, such as "I want my parents to treat me with more respect".
Let's have a look at the next step in the process:
5. Read the client's energy field and locate the chakras which are being most affected by the negative cord they have chosen to cut.
Most cords of attachment have a major impact on 1-3 chakras. I usually tune in to read 3 chakras that are being affected.
For this step, I hone in on the chakra databanks that are most affected for the client, by a particular cord.
It could be that a cord to a childhood bully has affected self-esteem at the heart chakra, standing up for oneself at the throat chakra and perception of oneself at the third eye chakra.
In this article, I go into my processes for honing in on the chakra databanks that can be affected in an Intuitive Healing session.
6. Find where the cord is located on the client's energy body.
Before we can cut the cord, we need to know where it is located. Often the location has significance. For example, it can often be located at an area on the body where the client has a recurring injury or problem.
7. Cut the cord.
Then we finally get to the part where we ask the Divine being to cut the cord.
8. In the place of that cord, ask the client if they would like to request certain positive energies to come into their energy field to help them in the healing and releasing process.
Once the cord has gone, we want to put in some positive energies where the cord used to be. The client decides what kind of energies she'd like to go in there. It could be self-love, self-awareness, courage, confidence, peace, etc.
9. Find out about the negative dynamics that were contained within the cord.
For this part, the cord cutting practitioner channels the dynamics that were within the cord before it was cut. This usually looks like a conversation between the client and the 'cordee', made up of negative thoughts, statements, beliefs, feelings and events. Sometimes we find that statements within this card were things that were actually said, word for word, during the relationship.
Cord cutting practitioners can find out this information for clients through channelling or through using dowsing with charts.
10. Discuss the dynamics that you found with the client…
& ask the client questions about the energies. These questions are designed to help them to reflect and talk about the relationship.
This is one of the most important steps in the whole process.
For this, we talk about what was within the cord. We want the client to reflect on how the cord was affecting them, what their part was in the relationship, what the lessons were, whether they saw what was in the cord reflected in the relationship etc. The cord cutting practitioner also gives their input based on what they found within the cord.
If you're cutting a cord for yourself, you will be journalling about this or recording some audio on the topic.
11. Tune into Spirit and find out if are there any recommended steps for the client to take next which might help to integrate the healing.
Alternatively, find out if there are any messages for the client from Spirit around this relationship or healing.
The final step could be to channel a healing message or just find out if there is anything the client needs to do to integrate the healing effectively. Whether this step is included in the process varies from one client to the next.
So, that is my process for cord cutting.
If you're interested in learning more about these steps so you can do a cord cutting for a client (or yourself), check out my Professional Intuitive Healing Program!