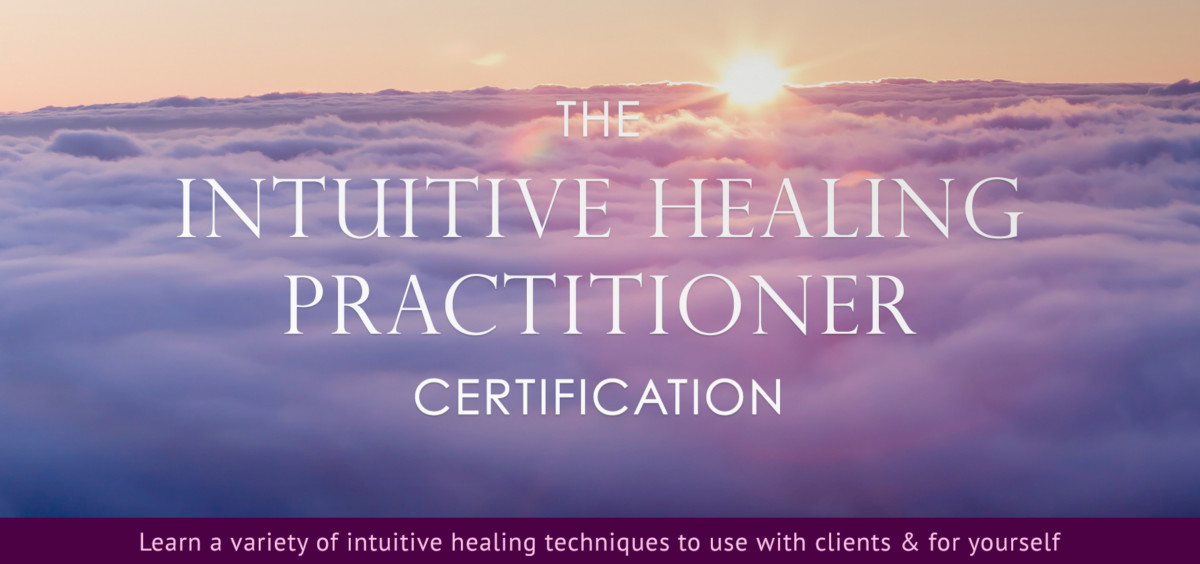 This training is for those who have completed my Cord Cutting Practitioner Certification.
Healers – add more tools to your toolkit – both for yourself and for your clients
In our previous work together, you learned how to cut negative cords and release earthbound spirits on behalf of your clients. In this advanced level course, there is so much more to learn – 5 further intuitive healing sessions that you can do, to resolve issues that are affecting clients on the level of their energy body.
What You'll Learn in the Intuitive Healing Practitioner Certification…
In this training, learn how to deliver the following sessions with the help of Ascended Masters & Archangels:
★ The enmeshed earthbound spirit healing (otherwise known as an energy sharing healing)
★ The aura cleanse session (which involves clearing psychic ties, emotional residues, negative thought forms, unwanted influencing energy, anger spears and any curse/spell energy – whether sent by the client or someone else towards the client.)
★ The portalway clearing session (which involves closing portalways in a client's subconscious mind to negative astrals OR closing any portalways to a past life that is still affecting the client)
★ The property/space clearing
★ The business reading and clearing
What's an enmeshed earthbound spirit healing?
This is the most advanced and complex session a healer can deliver. It combines techniques from the healing methods you have already learned in the Cord Cutting Practitioner Certification, using them in new ways to release enmeshed earthbound spirits from clients' auric fields.
How does an enmeshed earthbound spirit differ from a regular earthbound spirit?
When you have an earthbound spirit attachment (as many empaths and sensitives do), it means you have a spirit cluttering up your energy field, affecting your emotional stability, your intuitive accuracy and your energy levels.
An enmeshed earthbound spirit by contrast goes further than that. It is a spirit that has made an agreement with the client, to become very involved in 'helping' that client in his/her life, and as a result this creates a dependency in the client. The earthbound spirit is located on the inside of the client's auric field (as opposed to the outer edges, which is where regular earthbound spirits are located.) The enmeshed spirit essentially occupies a small portion of the client's life force energy, and shares his/her consciousness in this way. Essentially, two souls are privy to the client's life, and not one.
As for how this occurs, let me give you an example.
Let's say that a client is having a conflict at work, and feels that her communication skills are not serving her well enough in this context.  Perhaps this client is aware she would like to improve her communication, but does not know how to approach this. There are typically one or more strong emotions around this situation, such as shame or anger, to give a couple of potential ones. In the astrals at night, this client is approached by a being who offers to integrate itself into her earthly experience and help her with her communication. The benefits of this arrangement are usually overstated. For example, perhaps the spirit conveys that if the client allows her to become part of her experience, she will bypass the need to improve her communication and instead will have a source of wit, clever comebacks and the right words on the tip of her tongue, as she needs them, to outwit her opponent in this conflict.  
In addition to the benefits being overstated, the part about sharing energy is not usually clear to the client, simply because if the effects of the energy sharing were made clear to the client, the client would probably not agree.  So this is what I mean when I say that the client does not know what they are getting into when they get into an energy sharing situation. They are agreeing to something that they do not understand.
Then once the agreement has been made, the spirit begins to occupy some of the client's life force energy and 'helps' the client with the life area that they agreed to help with. However, the ironic thing about this sort of agreement between the spirit and the client is that it is not helpful for the client. The real result of this scenario will be that the disadvantages of the situation outweigh the benefits. The situation will weaken the client, undermining her, and the more she feels undermined and a lack of confidence, the more the spirit will need to help and the weaker she will become in this area. It is in this way that an earthbound spirit may progressively occupy more of the client's life force over time.
Other examples of the kinds of agreements enmeshed earthbound spirits make with clients include: when a client wishes to repress something, and exist in a state of denial. For example, if the client as a child needed to repress her feelings in order to survive, then a spirit of this kind could offer to help her to do this. 
These kinds of attachments, because they are so entangled, require more than just earthbound spirit release. So in this training you will learn how to work with these spirits, so that both the client and the spirit can move on and be released from the situation.
Let's have a look at the next session you'll learn how to do…
The Aura Cleanse Session
This session is very helpful for empaths and anyone who is sensitive to energy. You will learn how to release psychic ties, negative thought forms, emotional residues, anger spears, unwanted influencing energy, and curse/spell energy for your clients. These energies are classed as energy debris, that we pick up as we go through life and interact with other people. Some people have lots of energetic debris that they have collected over the years and releasing it can help the client to feel lighter, clearer, and just better.
The Portalway Clearing Session
In this session, you will scan the client's subconscious mind for portalways that may be open to past lives or negative astral planes. You will channel information about where these portalways lead and ask for them to be closed.
What are portalways to the negative astrals?
Seven positive and seven negative astral planes are accessible to us from our third-dimensional existence.
The negative astrals is where our concept of hell comes from – they are very unpleasant places to visit, but people sometimes do visit them, usually unconsciously, during sleep. People who frequently visit the negative astrals may have disturbed sleep patterns, nightmares, insomnia, or wake up tired. Frequently, they report that they sleep without having any dreams at all. The negative astral planes are unhappy places, so those who visit them sometimes block out memories from these places, and may claim to sleep dreamlessly.
This session teaches you to locate and close any open portalways to negative astrals.
In addition, in this soul healing session, we also learn how to close negative past life portalways. Often we can experience 'past life bleed through', which occurs when something about our current life situation reminds us of a similar past life situation. We may experience echoes of that past life, in our thoughts, through deja vu moments, and in our dreams. Sometimes these bleed throughs can be negative, contributing fearful, sad or angry energies into our present lives. In situations like these, it can be very helpful to close these past life portalways so that we are not affected by energies that we do not need to know about in this life.
This course will teach you how to obtain information about the past life and how it relates to this lifetime, and most importantly, to close the past life portalway.
Now onto the next session that is taught in this course:
The Property Clearing Session
In this session, you will learn how to diagnose and clear 10 different types of negative energy from a client's home or some other space.
The Business Reading & Clearing
Every business has its own energy and spirit. In this session, you'll learn how to assess the energetic health of any business, whether a bricks & mortar business or an online business. You'll learn how to clear certain types of negative energy from the business, and also to ascertain how aligned the energy of the business is with a desired outcome (which could be a desired level of revenue, or some other goal such as more clients, more freedom or more time.) In addition, you'll learn how to ascertain what needs to be adjusted or done to bring in this desired outcome in the client's business.
Graduation Requirements:
To graduate from this program, you must complete a minimum of 20 practice client sessions.
Once you have completed this program, you will be eligible for inclusion in the Intuitive Healer Practitioner Directory.
Pre-requisites for this Program
1. This training is open to all those who are enrolled in my Cord Cutting Practitioner Certification.
2. To enrol in this training, you must already have some training as an intuitive & you must be capable of channelling. If you have been through my Cord Cutting Practitioner Certification, you will most likely already be at that point. If you do not yet feel confident in your abilities, I suggest you also complete my Intuitive Awakening Course before you begin this one.
How This Training Is Structured
This is an apprentice style program, where you have access to me (Anna) by email for 12 months following your enrollment.
The initial training period takes approximately 2 months and happens over Skype/telephone. We will do a minimum of 5 training calls, lasting between 50 minutes and 2.5 hours each. Each session with me is a call, that may be just you and me, or it may be in small groups of 2. I will send you a detailed PDF write up after each session along with a recording of the call. And I will be available to help you as you work through your client case studies.
Here's What Is Included As Part of this Program:
★ A minimum of 5 training calls with Anna, each one between 50 mins – 2 hours
★ Private email support from Anna for 12 months following your enrollment as a healing student, coaching you through the process of working with your practice clients, and providing answers to your questions and comments on your progress
★ A final 30-minute mentoring session by phone once you have completed your practice sessions
★ Certification and the chance to be listed in Anna's graduate directory once you have completed the program, for free
Once you are certified, you will be able to do these healing sessions with paying clients.
Course Fee
This course costs $1150 US (a $50 discount is available for those who have also taken Anna's Energy Clearing for Spaces Course.)
I can enrol you in this course once you have graduated from the Cord Cutting Practitioner Certification and completed the required number of sessions. Please contact me if you are at that point and would like to proceed.
Have Further Questions?
Please feel free to contact me.