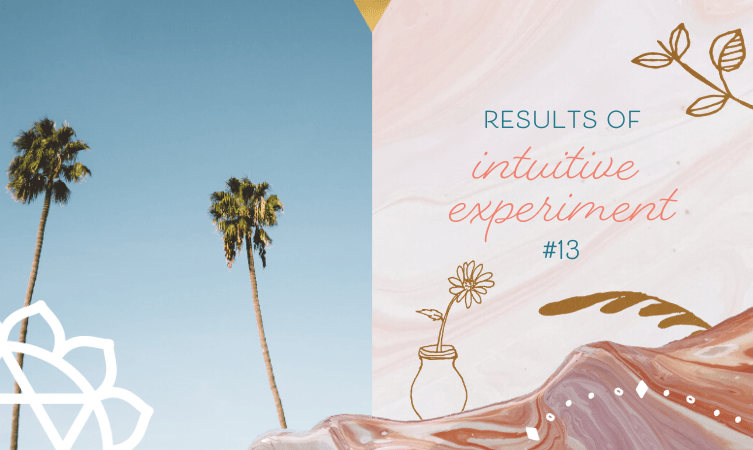 Who was the woman presented in intuitive experiment #13?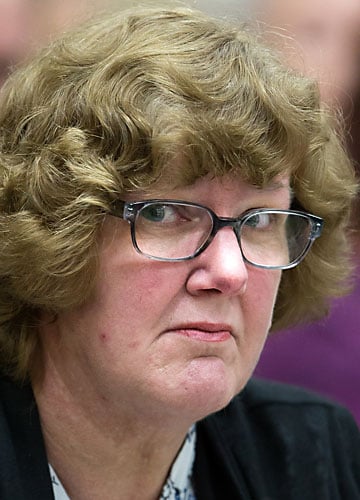 She is Helen Elizabeth Milner, a New Zealand woman who was convicted of murdering her husband Philip Nesbit in 2013 and sentenced to life in prison.
According to prosecutors, she put a massive dose of an antihistamine drug in her husband's dinner, and when he was sufficiently sedated, suffocated him. She then staged the scene as a suicide, leaving suicide notes and sending farewell text messages to his relatives.
Her motive was thought to be a $257,000 NZ life insurance payout which she wanted to claim to enable her to start a new life with her boyfriend.
She did not do a very good job of covering her tracks, however.
She was nicknamed the 'Black Widow' by her work colleagues as she had talked and joked about poisoning her husband prior to committing the crime.
Milner had also previously talked of killing her husband to her son, Adam Kearns, and his ex-partner, and offered them a share of the life insurance payout if they arranged a hitman. They later testified that they had thought she was not serious.
In addition, the victim's sister, Lee-Ann Cartier became suspicious when she noticed the signature at the bottom of the suicide note was not in her brother's handwriting. Nesbit's son also became suspicious because the suicide notes were typed, and his father did not know how to use a computer.
Although investigators had botched their investigation and initially concluded that the death was a suicide, Lee-Ann Cartier turned amateur detective, even befriending Milner to gain information about the case. She raised her concerns with the coroner and over a period of a couple of years managed to gather enough evidence to persuade the police to re-open the investigation.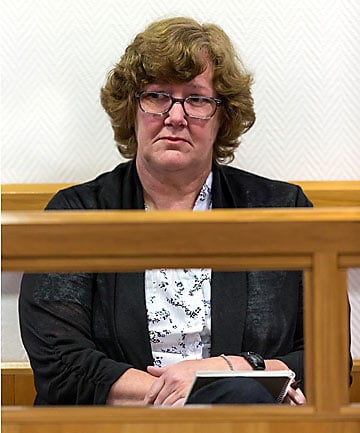 In addition to murder, Milner was earlier convicted of perverting the course of justice after setting her own son up and framing him for a crime he didn't commit. She bought a mobile phone and pretending to be him, sent threatening messages to herself and to his ex-partner, which constituted a breach of his protection orders. She then encouraged his ex-partner to report it to the police.
Her son was jailed for two weeks and later received compensation from her to the tune of $55,000, saying that his mother was "dead to him".
Background & Early Life
In a letter to the court, Milner's mother described her daughter as being a difficult teenager who would deceive and steal from her classmates, family and relatives.
As a young woman, she trained at a secretarial college and went on to work as a typist, but was eventually fired for forging a letter to her employer.
Milner later went on to steal $29,000 from another employer while working as a bank teller, and was caught and fired. Her parents say they spent thousands of dollars trying to prevent the case from going to court.
In 2009, she was accused again of stealing thousands from her employer, and convicted.
She was also investigated for setting fire to her car and claiming the insurance money.
She had two sons from her first marriage, and had sole custody of them. Her ex-husband claims she managed to gain full custody by lying in the family court and had blocked him from seeing his children.
Milner met Philip Nesbit in 2001 through his flatmate, whom she had dated briefly. They married four years later.
She was described as manipulative, motivated by money, two-faced, and remorseless by her ex-husband, children and relatives.
Her own mother, Ann Milner, described her as "either mentally ill or evil".
How did you do?
Leave a comment below!
Well done to everyone who got this one right…there were quite a lot of you – awesome!
For those who didn't get many intuitive hits, remember that it takes practice and a good technique to become really adept at reading others in this way, so don't be discouraged if you weren't accurate – it's not a reflection of how you could develop your ability in the future.
Want To Do Another Intuitive Experiment?

For those who are interested in taking their studies in this area further, you will want to check out my Intuitive Awakening Course, which has been taken by over 1500 students and has received rave reviews since it came out several years ago.
I believe it's the most comprehensive (and best value) course on intuitive development that you will find out there.
Here are some excerpts from recent reviews:
"I absolutely loved every part of Intuitive Awakening. I've experienced increased awareness of intuition, understanding of spirit guides all around us, better reception of messages from loved ones, and increased overall psychic awareness.

Also, I received invaluable information — guidance, love and light from the 'other side,' which no longer truly feels like a foreign place, but rather, our loved ones always surrounding us."

"I loved Intuitive Awakening! It's so beautifully written, professionally formatted, and expertly delivered via audio. All of that made me very comfortable as I expanded my understanding of and access to the spiritual realm. I was amazed at how thorough Anna was in explaining each topic area. It is outstanding…"

"I can't say enough about Intuitive Awakening. It is really powerful and the bonus chapter is very helpful. I was amazed by the things I could do and now I trust my insights completely…if you are serious about strengthening your intuitive skills, this well-thought out course is excellent. It teaches you step by step how to tap into your intuition while working at your own pace. It is extremely comprehensive and I would recommend it to anyone."
To read the full reviews, you can visit my testimonials page.