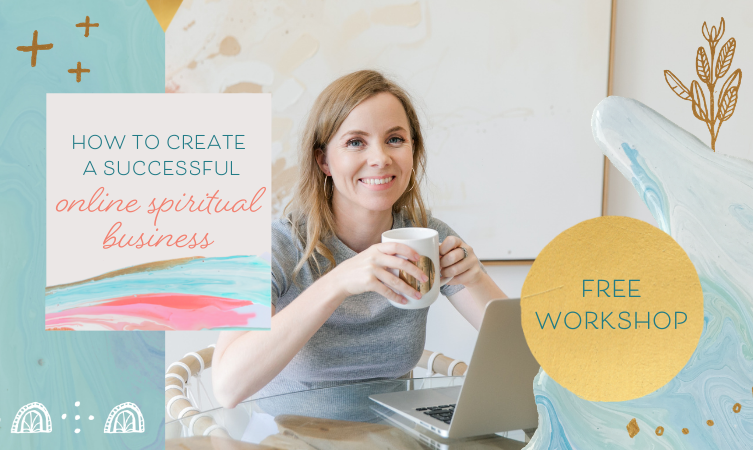 In just over 12 hours, I'll be spilling all my business secrets on my free Online Business Event for Spiritual Business Owners & Aspiring Spiritual Biz Owners. This is a rare, one-off event to spend some time with me while I'm talking about online spiritual business. There will be a replay but you will only get the replay if you register for the workshop. It won't be possible to get a replay without registering, and the deadline to register is 9pm EST on 10th June.
You can register at the bottom of this page.
There is nothing I am selling at the end of this workshop and I also have no affiliations with the services and people I will be recommending. I feel called to do this because I would like to help my Intuitive Healing Program students succeed in their own businesses and I thought I would make it accessible to others, as a service to my wider community.
My business journey
Before the call, I am going to tell you a bit about my own business journey so you can understand where I am coming from with this workshop and how I think about spiritual business. We all have different motivations and paths so it's good for you to have a bit of background about my path and also so you can get to know me if you are new to my work and interested in this workshop.
Back to the beginning
OK, so I am going to rewind 14 years. It is 2007 and I am working in a language school in Spain, teaching English and French. I studied French and Spanish and graduated from the University of Oxford in 2006, and I have to say that after my cushy student life, I found the working world a big disappointment.
Firstly, it was a disappointment in terms of how exhausted I was all the time and how unrewarding it was.
I was teaching 7-9 hours per day in a language school and earning about 1200 euros a month. I was burned out from the amount of contact time I had with students and I found that I had very little energy for anything apart from work. I also had no money left over at the end of the month to pay off my substantial credit card bills and student loans from being a student. I had graduated around the time of the recession so I knew I was super lucky to have a job at all.
But I didn't feel lucky. Instead I felt trapped, not just financially but also in terms of how my time and energy was being used. I think that this is a feeling that many people can relate to at some point in their lives.
I was also very dissatisfied at the time from a 'soul purpose' point of view. I was teaching English to both adults and kids, but I often found that my students were not that interested or motivated to learn English. I regularly had the thought "I can't believe I studied at University for 4 years, for this?!" People told me the world would be my oyster after University, just because I had a good degree, but it really wasn't.
I had this sense of knowing deep inside me that I was here to make a difference in the lives of some other people, and that sat next to this profound sense of disappointment about how life after University had turned out. It was a discouraging time and I didn't know how I was going to bridge the gap between those two things. I knew I could help people to reach their goals with language teaching, but it wasn't quite what I was looking for in terms of impact. I wanted to have a bigger impact on the world than that.
Around this time I was also doing a lot of spiritual searching because life was so boring and devoid of meaning at the time that I was seeking something more meaningful. And I was looking into my past lives, and I found an Akashic Record reading with someone online that went into past lives. I couldn't afford it but put it on my credit card. The reading was fascinating and I was amazed at what she had told me in it.
She was offering a practitioner training in learning to read the Akashic Records and do these readings for people, and I was so fascinated and amazed at what she had told me that I signed up.
This modality involved doing Akashic readings and healings for people. As part of the course you had to work with practice clients and I threw myself into it and got certified quite quickly. Then I started doing these Akashic readings for people around me and I also got a few bookings through my practice clients who referred people to me.
One of the practice clients was a guy who had a prominent EFT (emotional freedom technique) website. He believed in what I did and sent out an email to his large newsletter list about my services, as a favour to me, but also because he liked my service.
He sent me a fair number of clients initially and that really kickstarted my business.
I decided to leave my teaching post in February 2008. I have seasonal affective disorder (SAD) and often get depressed by the time winter is coming to a close and sometimes make big life changes that are a little ill advised. It became clear to me that my situation with this job and in Spain wasn't good enough and I wanted much better for myself. I was also suffering from burnout.
So I did something reckless – or maybe it was bold? (I'm still not sure which!)
I quit my job.
I had no money (I actually had minus money and lots of debt), no website and no tech skills. I didn't even have a computer!
I also had no confidence, was surrounded by naysayers & skeptics (including some abusive family members who I later became estranged from), and I had a less-than-optimistic attitude, thanks to my ongoing battle with seasonal depression (S.A.D).
But things started to move in the right direction in spite of all the obstacles.
My EFT friend who sent me my first clients kindly created a website for me (however, it was really ugly – a total abomination!) And over the coming months I focused on getting enough work to survive. I had just moved to London and I had to earn enough to cover my £500 rent to rent my room, and my food and bills.
I made £24,000 in profit that year (2008) which was more than enough for me to live on. I hustled like mad to be successful in that first year.
My income and client base climbed every year after that and there has never been a year where I regretted leaving my job or where I was unable to provide for myself very nicely.
Over the last 13-14 years, I've managed to create a business that allows me to work part time (I work an average of 2 hours per day), I reach millions of people with my work, I get lots of positive feedback about how my work has impacted other peoples' lives, which makes me really happy. My work is often enjoyable and provides extremely well for me on a financial level. I even got New Zealand residency through my business, through their demanding entrepreneur track to residency.
So that is my background.
In the call shortly I am going to teach you everything I can in a few hours about building a successful online spiritual business.
Here's what we will cover:
The number one thing you MUST have in your online spiritual business to succeed. If you do not have this, you do not have a business. Hint – it's nothing to do with social media
How I come up with content for my blog
All the different ways to market yourself as an online spiritual business and an intuitive process to teach you which one(s) to choose
How to deal with a lack of confidence & imposter syndrome
The truth about what it really takes to own and run a spiritual online business.  I'm going to give it to you straight.
Locating your 'big why' and why this is important
Technology recommendations for building a website, etc.
The mindset you must have to succeed in business and how to get it
How to determine your pricing
When to know it's time to quit your job and go full time in your business
How long it takes to make a full time income
My thoughts on taking donations instead of charging
What I did to build my service business back in 2008 and also what I did to build my online teaching 'empire' from 2011 onwards